JorgeBoscan
biography
Piano, Guitar, Bass.
Send me a PM or a mail if you need anything.

Msn: jorgeboscan (at) gmail.com
Yahoo: jorge_boscan
Aol: JLBoscan
0

August 19th, 2010 + 4:08 PM
·

JorgeBoscan
I remember my Alf toy I had when i was a kid and started listening to the Alf Theme (2nd Theme, faster one), and just wanted to make a tribute of it. The production is no really good, but I did this quick and to have fun doing it. Maybe Ill fix the mixing some day.

Enjoy.
6

August 10th, 2010 + 12:08 PM
·

JorgeBoscan
Hello again again.
Genre: Hmmm... Nu / Heavy / Math Metal (Not really that math)
This was the 3rd song i recorded after learning guitar. I became really ambitious with this one; still it doesn't have an ending.
Enjoy.
3

Hello again.
Genre: Intro: Ambient/Classical/Rock Main: Heavy Metal
This was really my first recording playing the guitar (This was like 1 month ago). It doesn't have an ending yet.
Enjoy.
1

I'm back
.
Genre: Heavy/Death Metal
After been absent so long I thought I should catch up with some of the stuff I've recorded.
After years of playing keyboard, 5 months ago I pick up an old guitar I had and started learning and playing with it some metal songs. This is the result of 5 months of playing guitar every day.
9

March 16th, 2008 + 6:03 PM
·

JorgeBoscan
Demo of my project, this song is being recorded in a studio with my band and will be publishing the album hopefully soon. Purely instrumental the singer didn't record in the demo, the guitar solo is missing also. This demo everything except the keyboard is sequenced.

Genre: Fusion/Progressive/Metal

Enjoy...
Alias:
JorgeBoscan
Status: Offline
Threads:
8
Posts:
83
Songs:
7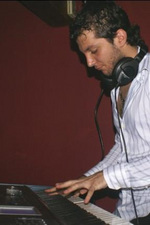 Joined: August 07th, 2007
Last login: September 09th, 2010
My Messengers
| | |
| --- | --- |
| AIM: | JLBoscan |
| ICQ: | n/a |
| Skype: | n/a |